1.NAVIGA WORLD CHAMPION
2.Realistic details.Master handcraft
3.Coherent lines.Exquisite materials
4.Deck&superstructure made byABS/wood/epoxy sheet (CNC). Detail fitting parts made by casting resin or metal.
5.SAILING STEADY.Brass propeller.Hull made by FRP/ABS. Brass etched sheet.
Introduction
Xiangyanghong No. 10 is the first 10,000-ton ocean-going scientific research vessel designed and manufactured by China. In November 1979, it was built by Shanghai Jiangnan Shipyard and delivered to the East China Sea Branch of the State Oceanic Administration. He participated in China's first launch of major scientific research and test missions such as launch vehicles and synchronous communications satellites. In November 1984, he participated in China's first Antarctic expedition team, and went to the Southern Ocean and Antarctica to perform scientific research missions. In 1988, he won the National Science and Technology Progress Special Award. In 2011, the State Oceanic Administration approved the new scientific research ship "Xiangyanghong 10" and the new "Xiangyanghong No. 10". On March 28, 2014, it was included in the National Ocean Investigation Fleet.
ITEM:B7585K
SCALE:1/200
SIZE:781mmX103mm(ARTR box)
Box size:900*200*200mm
Version: KIT , NOT yet assembled
Brand: ARKMODEL
For age: above 14 years old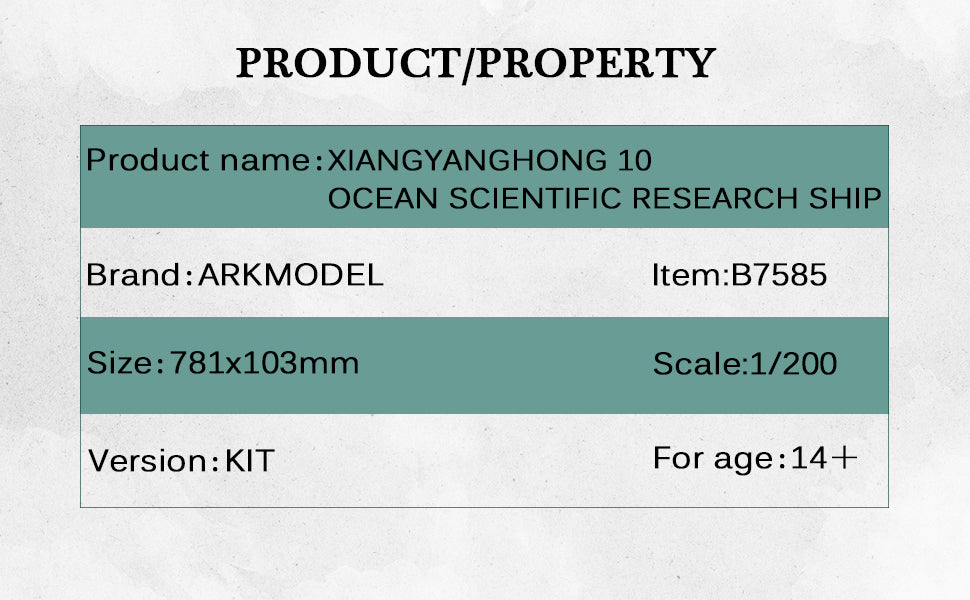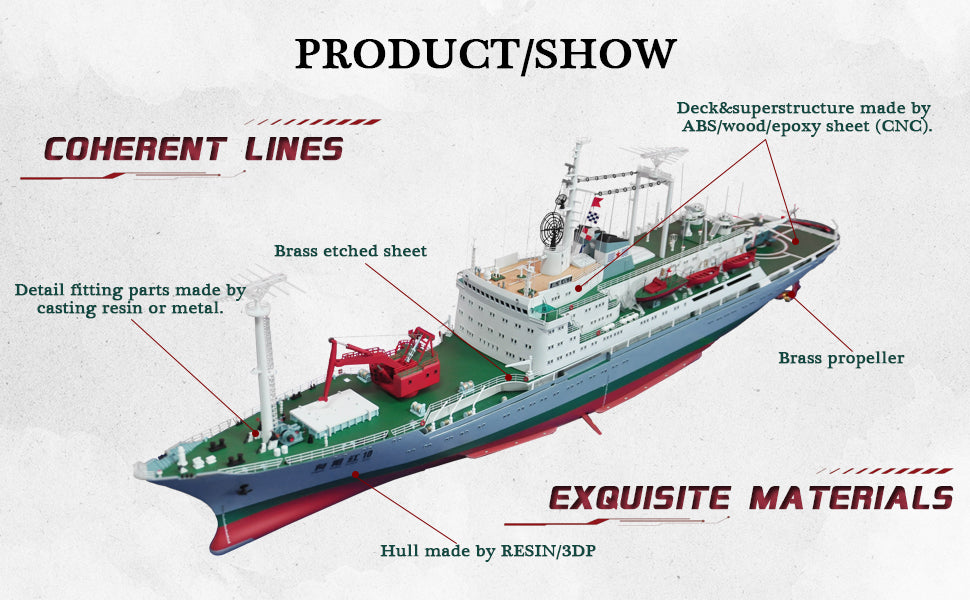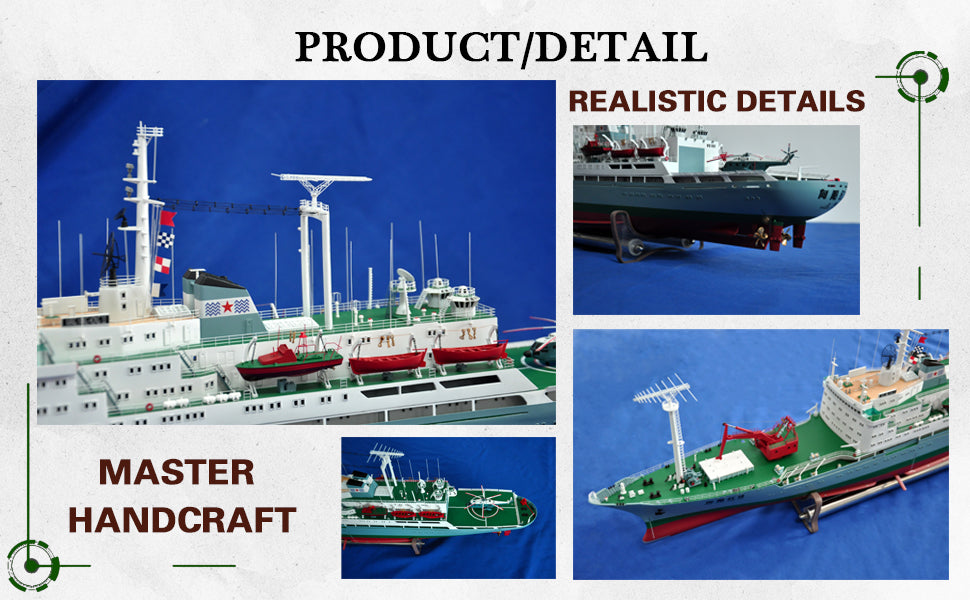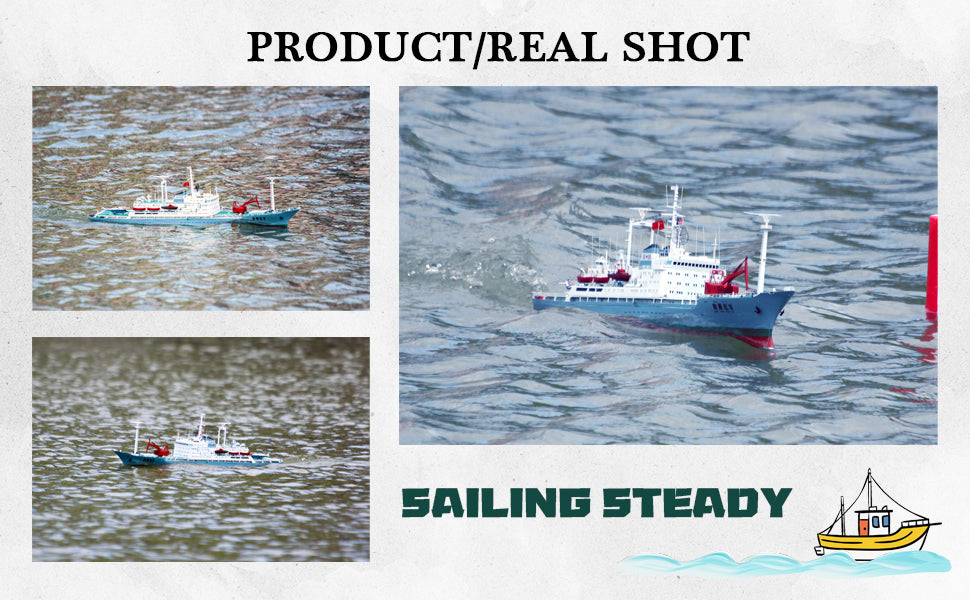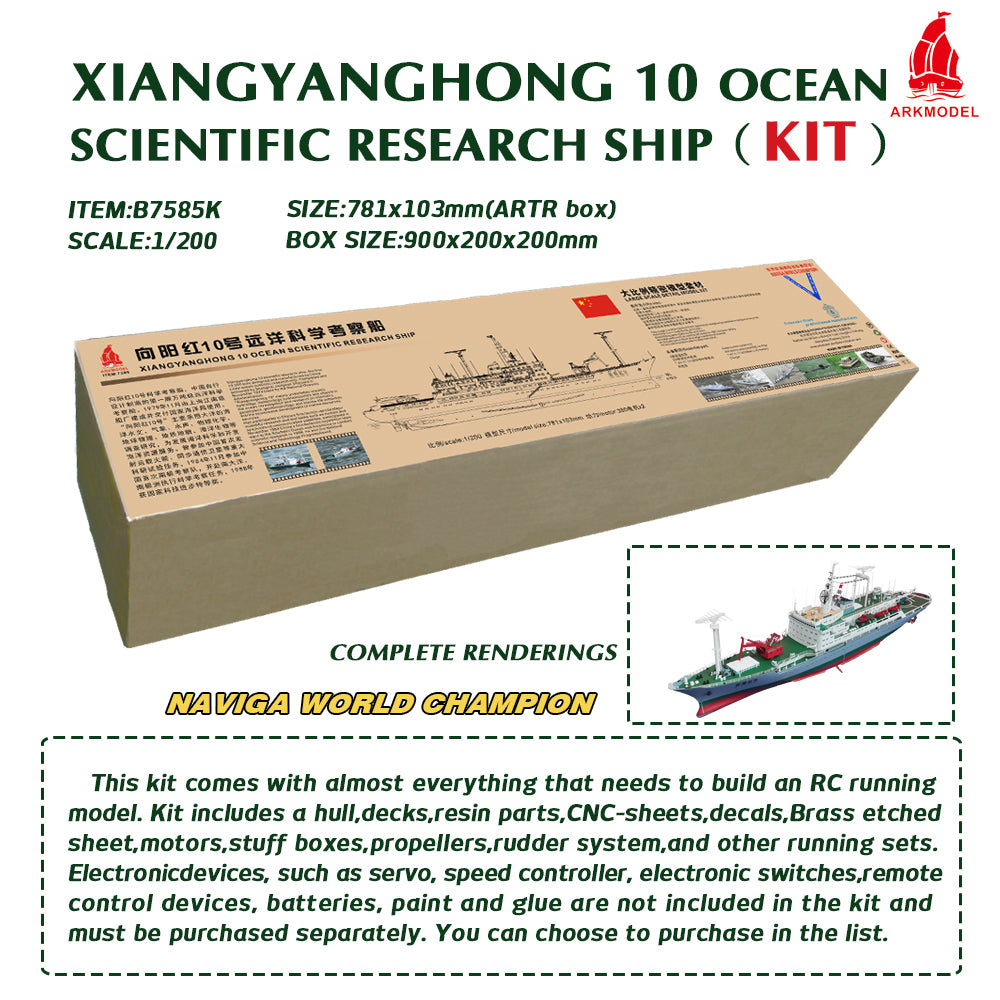 This kit comes with almost everything that needs to build an RC running model.
Kit includes a hull,decks,resin parts,CNC-sheets,decals,Brass etched sheet,motors,stuff boxes,propellers,rudder system,and other running sets.
Electronic devices, such as servo, speed controller, electronic switches,remote control devices, batteries, paint and glue are not included in the kit and must be purchased separately. 
Kit introduction:
This is a high reduction ship model kit. Designed by detailed drawing and resource. Suit for building an RC model or a static display model.
Hull made by FRP/ABS. Deck&superstructure made by ABS/wood/epoxy sheet (CNC). Detail fitting parts made by casting resin or metal.
All metal parts such as running set made by CNC precision sizing.
Kit includes colour decal. Kit includes large size brass photo etch.
Kit includes 3D illustrated step by step instruction.
More Photos